ITVP-2
The ITVP-2 is an all-in-one microwave detector for traffic light management. It replaces the approach loop and the presence loop at the foot of the fire.
It detects the movement AND presence of two-wheelers and cars
Your benefit? A reduction in costs on:
the civil engineering budget
the security budget
the personal intervention budget
The ITVP2 detects vehicles approaching the stop line over a distance of 40 m. Two relays are activated: one when a vehicle is in motion in a 40 m zone in front of the stop line, the other when a vehicle is in motion or stops in a (adjustable) 10 m zone by default in front of the stop line.
Relay 1 is maintained, within the time limit of forgetting, until the vehicle restarts. If a vehicle does not start when the light turns green, the automatic control system is thus informed of a possible blockage of the intersection.
Detection of moving and stationary vehicles
Range: 40 m for movement, 8, 10 or 15 m for presence at the foot of the traffic light
Choice of power supply:

220 V
low voltage: 12-42 VAC/10-60 VDC

Settings without opening the housing
Comfort of installation and use:

above-ground installation
works in all weathers
maintenance-free
trustworthy
Recommended installation configuration (installation height: 4.5 m)

minimum backward offset: 1.5 m from the stop line

offset up to 2 m from the edge of the roadway

Detection direction
incoming
Detection distance
up to 40m
Detectable speeds
up to 110 km/h
Unit size
68x100x165 mm
Weight (excluding cable and mount)
0.900 kg
Protection level
IP65
Mount
specific system provided, M8 adjusted
Operating temperature range
from -20°C to +60°C
Power supply
10-42 VAC/10-60 VDC
Power consumption
120 mA (1 W) @ 12 VDC
Frequency
K-band – 24.125 Ghz
E.I.R.P.
< 100 mW
User output
LED on front panel – 2 changeover relay contacts
Comparative tests conducted against induction loops show an accuracy of 95 to 98% on approach detection, contact maintenance during vehicle stopping and restart validation.
Several hundred units have been installed in Europe (Belgium, France, Finland, Switzerland, Germany, Poland, etc.), Quebec, South Africa, etc.
Here you can download the results of the comparative tests performed against induction loops and video detection systems.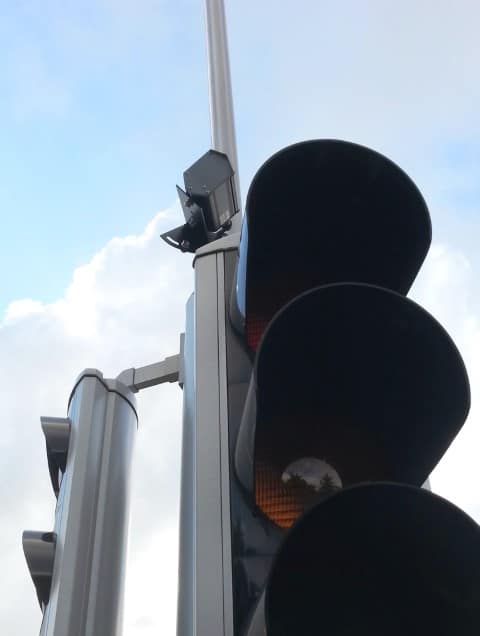 A question, a request or a proposal?

A question, request or proposal?